Step 1 - Retrieve radio serial#

Your vehicle requires that you remove the radio from the vehicle in order to retrieve your radio's serial number.


We do not support the removal of your audio system. However, if you require assistance, try the links below:

or

Radio serial#

Found on chassis of vehicles radio. You must remove the radio from the vehicle in order to retrieve the radio serial number.

Number will start with vwz.

Must be a 14 digit number.

You must include all numbers and letters included in the radio serial#, including "vwz".

This

number may be stamped in the metal, on side of radio.

Step 2 - Retrieve vehicle V.I.N #

Vehicle identification number.

Usually found at the bottom of drivers side window.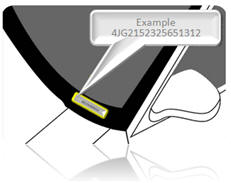 We do not require the original VIN# of the vehicle that the radio originated from.
Any Volkswagen VIN# will suffice.
Step 3 - Purchase code
You will receive your radio unlock code, via email.


Approximate code retrieval time is 30 minutes to 24 hours.


After receiving requested information.
ATTENTION!
Please turn off all email spam blocking software or any other email blocking device.
Failure to do this will only delay your Volkswagen radio code retrieval process.